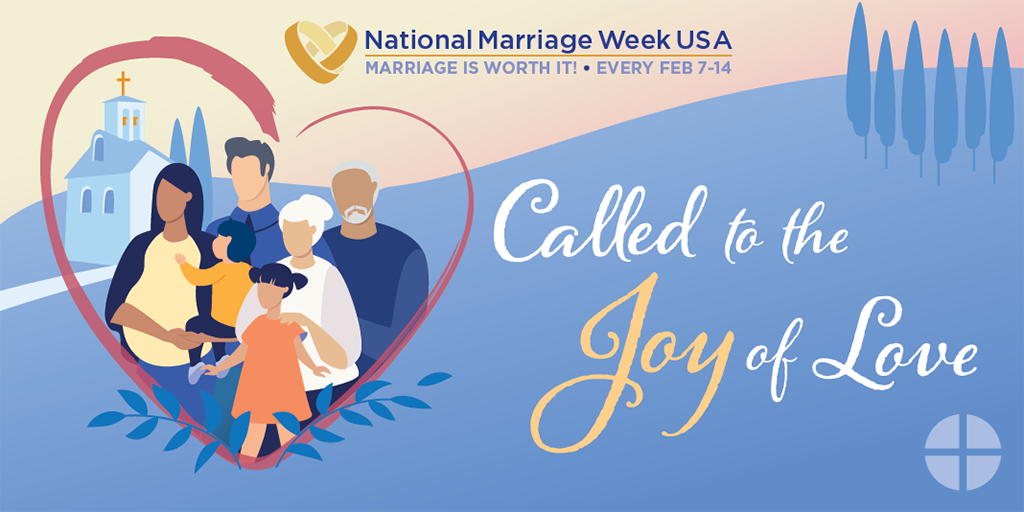 Celebrate National Marriage Week 2022:
Called to the Joy of Love
This February 7-14, 2022, we will celebrate National Marriage Week! This annual observance is a great prompt for everyone to reflect on the gift marriage is to our Church and our country, as well as an opportunity for couples to build up their own marriages.
There are hundreds of great resources for your use in preparing for or improving your marriage.
While there are hundreds of great tools for strengthening your marriage, we've listed some of our favorites below. Be sure to also check outNational Marriage Event Calendarto find out about marriage-enhancing events in your local community and online.
Any couple (dating, engaged, or married) can take this nationally renowned "Couple Checkup" assessment, developed by PREPARE/ENRICH, which will generate a report for you about your relationship. This is a productive way to have a conversation and move forward with growth and change in ways to strengthen your marriage. Maybe use the results as a topic for discussion on a special weekend retreat or date night–even Valentine's Day!
---

Celebre la Semana Nacional del Matrimonio 2022
¡Este 7 al 14 de febrero de 2022, celebraremos la Semana Nacional del Matrimonio! Esta celebración anual es una gran oportunidad para que todos reflexionen sobre el regalo que es el matrimonio para nuestra Iglesia y nuestro país, así como una oportunidad para que las parejas revivan y crezcan sus propios matrimonios.